| | | |
| --- | --- | --- |
| | Click HERE to download our Safe Zone Reflective Glo-Gauge™ brochure | |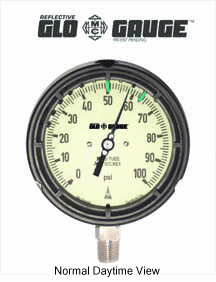 For Easy Viewing of the SAFE OPERATING ZONE!

The Safe Zone Reflective Glo-Gauge with easy-view operating range markers was designed to allow operators the ability to easily determine and judge if operating conditions become abnormal.

Operators can easily customize each "safe operating zone" simply by setting tabs located outside the gauge lens face. These tabs are given green retro-reflective enhancements and allow many different types of operating pressure zones to be indicated. Minimum and Maximum limits can be indicated and set apart at acceptable and safe operating pressures; or, all the way apart for more relaxed operating zones, depending upon each application – On the spot customization!

This remarkably easy solution permits anyone viewing the gauge, up close in the light of day; or far away at night or lowlight conditions, to easily see if the process is operating in the safe zone.

According to ASME B40.1 pressure gauge specifications, the pressure gauge range selected should always be twice the operating pressure. The Safe Zone Reflective Glo-Gauge is a visual aid that will assist operators in choosing and installing the proper pressure range for the application.

The middle-third of any gauge is the desired area a gauge should read. The Safe Zone Reflective Glo-Gauge has tabs only in this area and is a guide in helping to see if you have the right gauge for the application thus reducing gauge wear and fatigue, and minimizing hazardous situations.

It then can visually display the specific operating range specified for that application and alert anyone viewing the gauge that the pressure is above or below normal and they can take immediate action to correct it.

The pointer appears the standard black color, but it has been given a retro-reflective enhancement which reflects silver when illuminated by a flashlight held at eye level. This allows an operator, from a great distance, to easily see and determine if the gauge pressure is in the safe operating zone specific for that process.

An operator can effectively read out-of-the-way gauges, at night and in low-light situations and from great distances (up to 150+ feet!).

Additionally, with just a few seconds charge from a flashlight, the gauge dial will glow-in-the-dark in low-light conditions to allow operators and technicians to monitor pressure readings while performing their maintenance tasks nearby.

As more and more industrial facilities adopt safe operating and maintenance habits like those found in the procedures of TPM ( Total Productive Maintenance ) , and PM (Preventative Maintenance) it is crucial to know and "see" if operating conditions become abnormal.

The Safe Zone Reflective Glo-Gauge will meet the requirements and procedures of TPM , PM, and ASME B40.1 and exceed the rigorous and harsh requirements of demanding industrial environments.

Watertight, liquid-fillable, and trusted McDaniel heavy-duty construction with the added benefits of glow-in-the-dark dial and a high visibility reflective pointer with a customizable visual safe operating range make the Safe Zone Reflective Glo-Gauge your first and lasting choice.


OTHER GAUGE OPTIONS



Follow online/onscreen directions and choose characteristics of gauge to
get McDaniel part number. Then



choose to download CAD file format of your
choice or choose to automatically insert into your AutoCAD program.



MPB/S model (4-1/2 inch process gauge):



1- Panel Mounting front flange kit.
This will allow our process gauge (bottom connection only) to be mounted into
a 4-1/2 inch hole:
List Price adder is $53.35.

2- Colored Cases

We can now offer you three color options on our model MPB/S case (See picture below):

"BLUE" (RAL 5009-Azur Blue)
"YELLOW" (RAL 1012-Citrus Yellow)
"RED" (RAL 3000-Fire Red)

List Price adder is $23.00 per gauge
(Standard delivery is 4-6 weeks) (Expedite available)